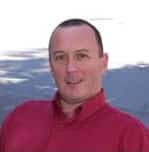 John Quinn – Course Director
My life after university had been an eclectic rush of mainly unsatisfying jobs and adventurous travel. Scientific Officer for the UK's Ministry of Defence, courier company owner and film extra in Cairo covered much of my working life before I became a language teacher. My travels have included climbing a pyramid, cycling through France and Spain, travelling the Trans-Siberian railway through The old Soviet Union, backpacking India and Nepal for a year plus quite a few other escapades.
While contemplating my return to the UK from backpacking India in 1998, I felt a cold fear come over me at the thought of returning to suburbia and routine. Fortuitously, I met an EFL teacher taking a break from her job in Bangkok — Eureka! At last a job that would satisfy my desire to do something personally fulfilling and an opportunity for adventure. And to cut a long story short, 4 months later in Chiang Mai I stepped into the language classroom for the first time.
Since 1999 I've taught in language schools, colleges, universities and the British Council. Currently, I'm the Academic Manager of EFL Learning Centre and Senior Trainer for SEE's TEFL certification program. In addition, I've been a language examiner for The University of Cambridge's ESOL examinations since 2004.
The students are the primary reason you teach. In Chiang Mai the warmth of the Lanna culture flows through them and emerges as respect for the teacher, friendliness and a love for life.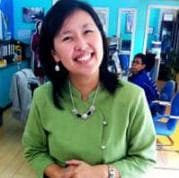 Dr. Wilaiwan Wannachotphawet Quinn (Ying) – School Licensee
In July 2004 I returned to Chiang Mai from my Ph.D. Studies at Manchester Metropolitan University. Before I departed Thailand for England I had studied English extensively and to a high level, but I was shocked when the first "Manc" I met said "Hello luv" closely followed by sounds it took me two years to understand as English with a Manchester dialect — I wasn't his "luv".
Slowly, deep-fried Mars bars and mushy peas replaced my hunger for chilies and fish sauce, but I never got used to the continuous rain and cold. In Thailand we have 3 seasons: summer (hot and dry), winter (warm and dry), and rainy (warm and humid).
I had seen movies, read magazines and watched television programmes about farang (foreigners of European descent) as I grew up, and like most Thais I was fascinated by these tall and confident people with long noses. In Thailand, apart from my English teacher, I never had the opportunity to meet and talk to them.
Thailand needs English teachers and its people want to meet foreigners but can't afford to travel abroad, and I know from my English friends that foreigners love Thailand and want to meet Thai people. A match made in heaven.
Shouvik Mukherjee – Lead Trainer / Teaching Practice Observer
Shouvik Mukherjee, recently won the The Excellent Teacher Award 2015. It was awarded by the Private Schools Association and presented by the Governor of Chiang Mai.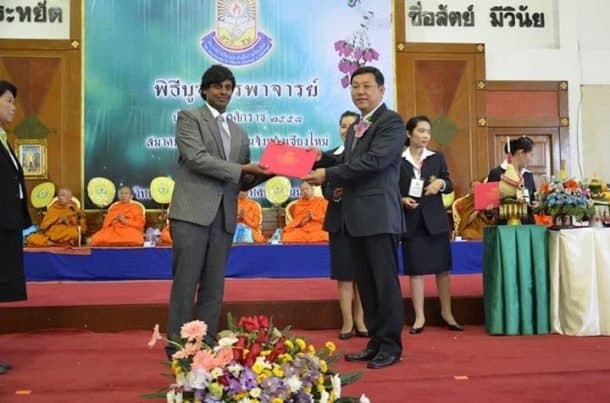 Life for a young student in London was a somewhat predictable mixture of exuberant hedonism and directionless nihilism. This explains in part, my abrupt change of direction from studying medicine at St. George's Hospital Medical school to then studying Law at King's College London. After completing my studies, hours were spent under the unremitting gaze of statute books in various legal offices across London and this tedium was occasionally broken up by the much more rewarding act of tutoring a very bright boy with various educational needs that were not being met at school.
A eureka moment ensued and search engines were consulted for a way out. A TEFL course in London was paid for and completed with great enthusiasm and searches kept throwing up Chiang Mai, Thailand. After some cursory research my bags were packed and I embarked on a journey with a sense of commitment that hitherto, had been lacking.
And what a journey! I have taught a wide range of age groups in Thailand and the respect and love you receive from your students is something to behold and beyond what you could possibly begin to imagine in a manic office environment in a bustling metropolis.
What I have found that really sets Thai students apart is their enormous sense of fun and zest for life. This ensures that your classroom is full of beaming smiles and great energy that I am starting to believe is unique to this beautiful haven of northern Thailand.

Terry O'Shea – Trainer / Teaching Practice Observer
If there was ever a person not meant to have a career…Finishing school in Dublin, Ireland in a bleak economic environment, I bought a one-way ticket to Melbourne, Australia. With good fortune and a bit of blarney, I thrived in this new multicultural landscape. I was a tram conductor, a wool tester, and a silk tie salesman, before the law caught up with me: I settled in the Supreme Court of Victoria as Building and Services Manager for a few years. Having a new found interest in the judicial system, I took some courses and transformed into a Youth Worker. Here, I specialised in the management of vulnerable young prisoners exiting the prison systems across the state.
This thirst for further knowledge drove me to completing a BA in English, which also included a few trips to Iceland to start a family (this was not officially on the curriculum). Finding it difficult to settle my Vikings down under, we relocated to Iceland and I became a relocation manager for the next 8 years. I worked my way up through the ranks of a company that specialised in international relocations, exactly what you dream about during your English degree.
The economic collapse in Iceland finally caught up with me in 2011-2012, so I was offered a fantastic position in management in Dubai with huge piles of cash on offer, which of course meant I went to France and Spain instead and worked for peanuts. Why? Education! I was finally able to begin teaching, first tutoring through an International University program in Southern France and finally at a school in Northern Spain. However, I wanted to go east again and remembered Chiang Mai from past travels.
I have been in Chiang Mai less than two years, but its home and a most pleasing one. I have had some thrilling experiences and have taught at every level from kindergarten to corporate training, in public and private schools. Thai people and Thai students in general, are a joy to teach, so what are you waiting for?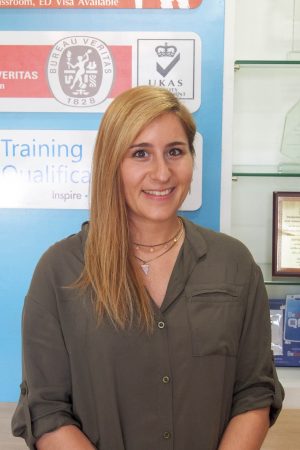 Pamela Landro – Trainer / Teaching Practice Observer
When I was a teenager, my English teacher asked me to complete the exercise: 'What will you be doing and what will you have done by the year 2020'… my response was: 'By the year 2020, I will have travelled around the world, I will have obtained my teaching and translation's degrees and I will be playing rock and roll with my band'. I guess I've done teen Pam pretty proud, if I may so myself, except for that teensy part of "becoming a rock star". But well, one year left…
I have always loved literature and languages and, from a very young age, I knew that I wanted to become a bridge between cultures, to connect authors with their readers, to shorten distances, to strengthen the bond amongst people, and to help everybody feel the magic and connection conveyed by words. For that reason, I became a literary-technical and scientific translator, as well as a TEFL teacher.
I have devoted my whole life to my three passions: teaching, translating and travelling. I love my country (Argentina) and its ways of life, but I have always wanted to explore the world and get to know other cultures. I have lived in Australia and Denmark, plunged into the lush Amazon forest, ambled down European streets, felt the warmth and joy of South America, marveled at South East Asia's hidden treasures; and, in all my journeys, I saw the importance of verbal communication. English is today's lingua franca, so we need to make sure we can bridge the gap and bring the language closer to as many people as possible. And so, if you speak English seeking to become a bridge, you have come to the right place to gain the tools to build it.
I have been teaching English for 10 years and in my less than two years in Chiang Mai, I have taught all kinds of levels—English camps with young learners, college students, teenagers and adults, corporate training and more. Regardless of the age or level, Thai students are great at challenges, always smiling, always warm and always very appreciative. Teaching is a heart-warming and very rewarding job, and the world needs committed, engaging and energetic teachers… just like you can be!!

Robert Conroy – Teaching Practice Observer
I was born and raised in Cleveland, Ohio. After high school, I enlisted in the Air Force and then graduated from Ohio State with a degree in psychology. I wanted to help people but to work in the psychology field I needed a Ph.D. After working in a few unfulfilling jobs around the US, I ended up in New York City doing some substitute math teaching, which I enjoyed but I needed a master's degree and get licensed to continue. Instead, I got a computer programming certificate. For over 20 years, I worked mostly for non-profit organizations doing everything from database design, to office management, to fundraising. But, something was missing.
I liked my job, my colleagues and most of New York City but I had always dreamt of teaching. My step-mother was a teacher; she frequently complained about the politics of the school system but never complained about the students. She taught me that a teacher always has to work to support their students' learning and in turn has to open to learning from the students. But the idea of teaching in America, especially in New York City, didn't seem possible or rewarding.
In late 2010, my wife said to me; "Have you ever thought about living in a foreign country?". She grew up in the Caribbean and had moved to the US after high school. I was open to it but doubtful. We researched cities that had a warm climate and a high quality of life. Chiang Mai, Thailand kept coming up. And most important I could teach English in Thailand. Neither one of us had been to Thailand but we took the risk and went for it. We sold almost everything and had a one-way ticket to Chiang Mai in December 2013.
Three weeks after arriving in Chiang Mai, my SEE TEFL course began. I started to relearn in detail what I had learned 40 years ago in Cleveland – grammar, discipline and having fun in the classroom. It was like being back in primary school and I loved it.
After successfully completing the TEFL course I felt empowered to go out with my new certificate and get a teaching job. With the support of SEE's staff and Ying, I was successful. My dream came true!
I've been fortunate to teach students at different schools and at different levels, from beginner to advance. SEE's course prepared me for the cultural differences in a Thai classroom. It gave me an effective methodology and the confidence to teach second-language learners. I'm dedicated to give this knowledge to the teacher trainees at SEE.
When I'm not teaching, you can usually find me on the tennis court or enjoying the wonderful food, the culture and the people of Chiang Mai.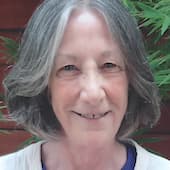 Patricia Hodgson – Teaching Practice Observer
On finishing school in the UK, I desperately wanted to go to Art College, but my parents said this would not lead to a viable profession, so they enrolled me at Secretarial College where I would always have a career. My skills eventually took me to South Africa, and this brought me to a long term assignment with a computer company in Johannesburg. Eventually, they enrolled me on one of their computer programming courses and a new career in computer programming started.
Many years later I returned to the UK and secured a job training customers on programming and software. In 1999, one of my colleagues from Johannesburg contacted me as he had set up business in Manchester and requested I join them for upgrading all systems for the encroaching millennium. This was an exciting, nail biting time and involved both programming and training in the hope that everything would continue to work at 12:01 on the 1st January 2000. It did and celebrations were had by all. I continued with this company living and working in different areas of the UK and Europe.
When residing in England I always booked overseas holidays around Christmas, and in 2011 this brought me to Thailand, travelling all through the country and the last three days brought us to Chiang Mai, which I fell in love with. Six months later I came back to Chiang Mai and travelled all over the north of Thailand and spotting SEE TEFL, decided to book myself on one of their courses. Four months later I came back to Chiang Mai for two months and attended the TEFL course, which was great, hard work but very educational with exceptional training staff. Five months later with my house in the UK sold, I disposed of all my possessions and returned to Chiang Mai permanently together with my daughter and two dogs.
EFL Learning Centre has provided me with opportunities to teach EFL at all levels, ages and nationalities, Thais, Taiwanese, Japanese, Swiss, and French students. There were also weekend workshops for 100 school principals in the Chiang Rai area, 100 school teachers in the Chiang Mai area, Kindergarten teachers located at Doi Inthanon and student summer camps at Doi Saket. These were amazing fun weekends.
So, having always been creative through teaching and programming, I continue to enjoy the creativity of observing, preparing and teaching lessons to enthusiastic and motivated learners.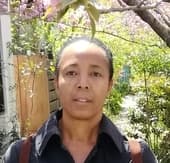 Corona Sanchez – Teaching Practice Observer
I was born and raised in St. Lucia, a beautiful tropical island in the Eastern Caribbean. I spent most of my life in New York City so I consider myself a New Yorker.
Being from a family of school teachers, I knew that was my destiny. After two years of teaching primary school, I moved to New York City where I studied Fashion and Interior Design. I enjoyed the process of creation and expression plus I was good at it but I didn't feel grounded. For over twenty years I worked in different industries. I finally had it with office politics I missed the free-spirited being I once was. I began to submerge myself in developmental workshops and surrounded myself with like-minded people. After years of digging and trying a few things I rediscovered and reinvented myself. I emerged as a personal chef.
After a year or so, things began to take shape but for some reason, I started to re-think things. What impact would the sort after future impose on my present life and vice versa? Was I willing to do the time to have the future I envisioned? I did not see a great quality of life at the end of that tunnel. So, as much as I was enjoying the process of building a successful business, I physically started to yearn for a simple, laid back way of life, where I had less and did more. I no longer wanted to be part of the system so I started contemplating moving out of the US. At first Bob, my husband wanted no part of it. He had built so much in New York City – a successful career and a community of peers that respected him. There was no way he could leave. Somewhere along the way I piqued his interest and inspired him and after about 18 months of extensive research, conversations, indecisiveness, and apprehension, moving became evident and for me, experiencing a very painful loss propelled it and a selection was made – Chiang Mai, Thailand. Although we had never been to Thailand we felt confident with our choice.
In December 2013, after careful planning and cheerful goodbyes, we arrived in Chiang Mai. We relaxed and explored for three weeks before starting the TEFL course at SEE. The first day was seamless but throughout the week things intensified. I was relearning things from primary and secondary school all in one week! By the end of week two I was schooled and somewhat polished. By the end of week four, I had delivered six teaching practices and passed my grammar test. Things started to mesh and all due to the remarkable design of SEE's course and the fantastic trainers. Looking back, I can now say it was truly accelerated learning at its best. Finally, after four weeks of intense training and daunting moments, I received my TEFL certification. I had once again reinvented myself!
Since then, I've taught at the primary and vocational levels and experienced the Thai culture in ways I could not have imagined. TEFL training has really given me an in-depth understanding of English, its complexities, and nuances. Teaching Thai students has helped me to understand the challenges of learning English.
SEE's modality is simple, precise and extremely effective. It gave me the tools to confidently step in front of the classroom. With proper planning and the 3P's, I was able to deliver successful lessons. I experienced the joy of seeing my students improve and enhance their skills. Be forewarned that Thai students love to have fun and your definition of fun just might change – mine did! Stay open, be adaptive and you will be able to embrace the role of "English Teacher" in Thailand.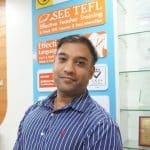 Sultan Chaudhry – Teaching Practice Observer
My life has always been full of spontaneous decisions and career choices. After graduating from Brunel University in London, T started work as a sales advisor. Unsatisfied with my job, I went back to my home country and decided on doing what I always felt was my passion, 'flying'. In less than 2 years I became a qualified commercial pilot as well as a flight instructor. During the time I was an instructor, I also got the opportunity to become a manager for a private aviation firm. Life seemed to be going great, yet I was still not satisfied and was hungry for something better but didn't know what it was.
Long story short, ended up in Thailand for some long awaited vacation time, when I met the love of my life. Longing to always be by her side, I started searching for career options in Thailand when I stumbled on a TEFL course being offered by SEE TEFL in Chiang Mai.
Two years later, being happily married to my better half and finding out that teaching is my true calling. Nothing has made me more satisfied in life than giving knowledge and seeing my students prosper.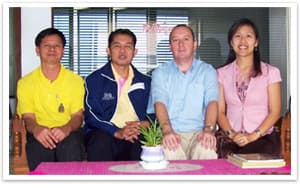 SEE TEFL and Ministry of Education Officials
John and Dr. Ying with Mr. Sermsit Pimpandee (Vice Director of Chiang Mai Education Services), and Mr. Dhwatchai Chaikan (The Head of Private Education Institutes) at Chiang Mai Ministry of Education. Read the interview with the Thai MoE.
SEE TEFL ISO 9001:2008 Certification Celebration
Since 2005 SEE TEFL has successfully trained more than 1,200 teachers. The SEE TEFL training program is unique in that the original director and course designer John Quinn has been continuously managing and teaching the course, and training the trainers. There has been no discontinuity in the life of the organization and the courses.
In 2009 the organization was awarded internationally recognized quality management certification ISO 9001:2008, the first TEFL training organization in Asia to receive this. Ongoing staff training and quality management processes ensure a consistent and reliable TEFL training operation.