SEE TEFL course accreditation, licensing, recognition, and endorsements are through organizations which are themselves recognized and accredited by governments to perform those roles. We do not seek accreditation from self-appointed accreditation organizations, or any organizations that do not have accrediting functions, and which can only provide peer endorsement (such as other schools).
SEE TEFL is licensed and recognized by several different government agencies in Thailand and the UK. And SEE TEFL has the most comprehensive licensing, certification, and endorsement for TEFL courses in Thailand.
At the end of a TEFL course, the recognition that matters to our graduates is in getting hired. Our TEFL graduates work in dozens of countries across the globe, and the SEE TEFL certificate is recognized and accepted as representative of a comprehensive and effective 4-week, 120 hour, in-class TEFL training course. Our course is easily equivalent to a CELTA or Trinity TESOL, as we also have young learner and Thai culture training, which many, perhaps most, of those courses do not include.
Licensing, Endorsement, Certification, and Recognition
In brief, SEE TEFL and *DSS International, the SEE TEFL operating company, have the following accreditations, certifications, licensing, and recognition:
Licensed by the Thai Ministry of Education to conduct TEFL Training courses.
Approved Center of Training Qualifications UK (TQUK), which in turn is recognized by the UK Government Office of Qualifications and Examinations Regulation (Ofqual).
Certified ISO 9001:2015 — an international quality management standard — by Bureau Veritas, which is accredited by the UK Accreditation Service (UKAS), recognized by the UK Government.

SEE TEFL was the first TEFL trainer in Asia to achieve ISO 9001
SEE TEFL is the only TEFL training organization in Thailand recognized by the Thai Industrial Standards Institute (TISA) as achieving ISO 9001 certification.
*Note: DSS International Language Services Co., Ltd. is the operating company and legal license holder for our school and our teaching and training services. Official certification is held in the name of DSS International (the legal entity), our registered school name (operated by DSS) Effective Foreign Languages Chiangmai (Lanna) School, and/or our teacher training services SEE TEFL.
Licensed by the Thai Ministry of Education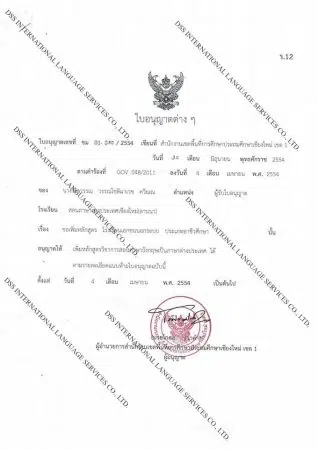 DSS International / SEE TEFL is registered with the Thai Ministry of Education, and our licensed school has permission from the Thai Ministry of Education for our school to conduct TEFL Certification training courses.
Registration number: ช.ม. ๐๑-๐๑๓/๒๕๔๙ (Chor.Mor. 01-013/2549) (C.M.01-013/2549).
School License name: Effective Foreign Languages Chiangmai (Lanna) School.
Approved and Endorsed by Training Qualifications UK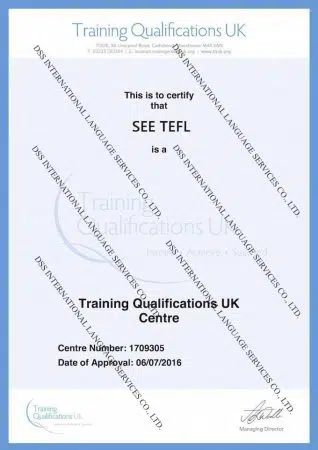 Our most recent endorsement and approval is by (TQUK), the Training Qualifications UK organization. On 06 July, 2016 we became approved Training Qualifications UK Centre #1709305.
TQUK conducts education and course quality assessment. As an approved centre, TQUK courses offered by our school are endorsed by TQUK, which is recognized by the UK Government Office of Qualifications and Examinations Regulation (Ofqual).
OFQUAL Level 5 TEFL Certificate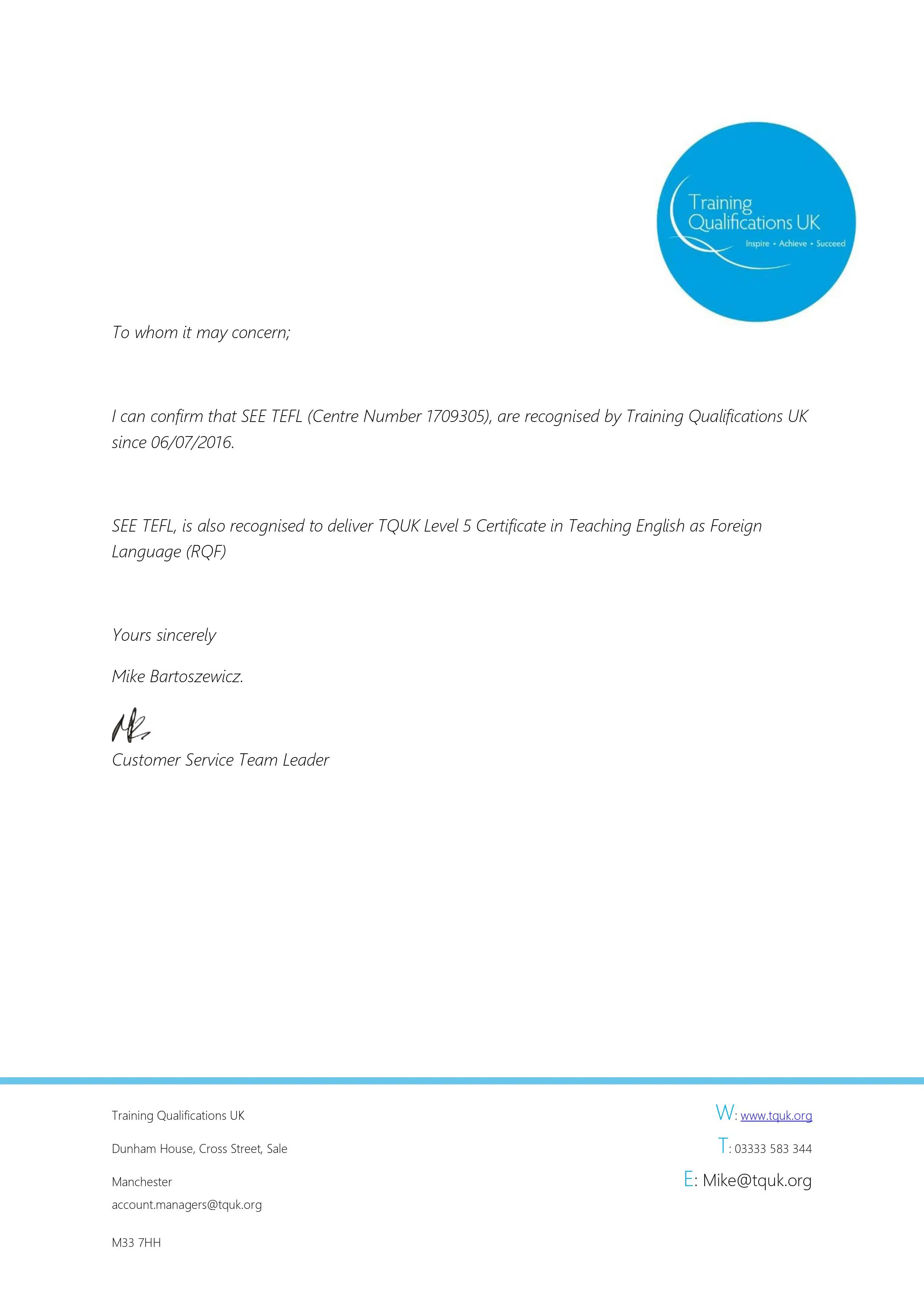 Being a TQUK approved training centre puts SEE TEFL in the unique position of being able to offer both our 120-hour onsite TEFL program and an Ofqual Level 5 TEFL program.
In order to obtain the Level 5 qualification, trainees must complete all the requirements of the 120-hour onsite program in addition to other assignments within a 6 week window during and around our four-week, 120-hour onsite program.
Certified ISO 9001:2015 by Bureau Veritas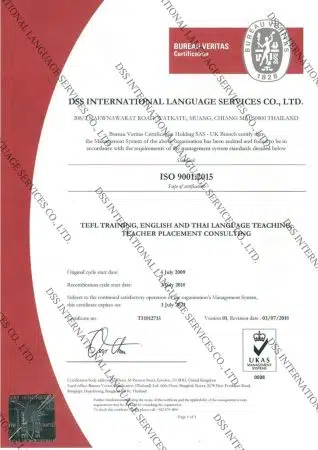 Verification available at Tel. +66 26 704 800
SEE TEFL Teacher Training ISO certification was established through Bureau Veritas, an accredited registrar and auditor that performs assessments of management systems against requirements of national and international standards for quality.
ISO Certification by Bureau Veritas is accredited by the United Kingdom Accreditation Service UKAS, the sole national accreditation body recognized by the UK government to assess organizations that provide certification services.
Notarizing a SEE TEFL Certificate
Some countries, such as China and Vietnam, require a notarized TEFL certificate. Notarization is a process that legalizes documents, awards and certificates in order for them to be accepted by governmental agencies for the purposes of obtaining employment, visas and work permits. As SEE TEFL is licensed by the Ministry of Education this process is straightforward and is performed in-person at the 'Document Legalization Service', Ministry of Foreign Affairs in Chiang Mai during the week following the end of training. Normal service takes 2 days but there is an express service that takes less than 2 hours. Full details are provided during training.
Thai Industrial Standards Institute Recognition
The Thai Industrial Standards Institute (TISI) is an office of the Thai Ministry of Industry. One of the objectives of TISI is to monitor the quality of Thai products and services and to promote companies that meet international governmental-level standards such as ISO 9001. SEE TEFL is the only TEFL trainer recognized by TISI as meeting an ISO international standard.
Partner School – EFL Learning Centre
In addition to SEE TEFL, DSS International Language Services Co., Ltd. runs EFL Learning Centre, an award-winning foreign language school recognized by the Office of the Private Education Commission Thai Ministry of Education, and provides foreign language teacher placement services for many government and private schools and colleges throughout Chiang Mai and Northern Thailand.