2 Weeks of Onsite Training with accommodation
plus a 4-5 Month Teaching Placement
120 Hour Onsite TEFL Certification
Course Summary
---
SEE TEFL offers a PAID 4-5 month placement for full-time English Teaching in Central and Northern Thailand with a minimum salary of 30,000 Thai Baht (THB) per month — included before placement is 2 weeks of face-to-face TEFL training with observed teaching practices at our training school in Chiang Mai + accommodation (while training). At the end of the placement period participants receive TEFL certification. These teacher training + paid internships are offered twice per year, at the beginning of both Thai school semesters.
It's not necessary to possess previous teaching experience or to know any Thai language.
---
Download
your free guide here
Everything you need to know about becoming a TEFL teacher in Thailand – even without prior teaching experience.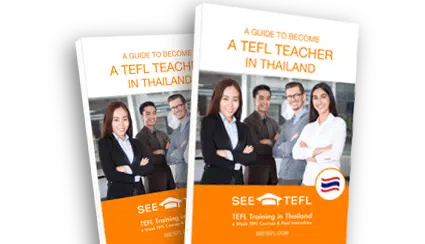 Inclusive Resort-style Accommodation Chiang Mai
Resort accommodation at the Eco Resort Chiang Mai, Bumrungrad Road with breakfast and swimming pool is included in the Internship fee for 15 nights during post-arrival training in Chiang Mai. Eco rooms are shared with other same-sex Interns. If there are odd numbers of interns, it's possible ECO will place a non-intern in one of the rooms. Single-occupancy can be arranged for an additional fee of $200 USD. The resort is a 5-minute walk from the SEE TEFL training center.
After training and during placement periods, Interns are responsible for the cost of their own accommodation. Placement schools outside of Chiang Mai will introduce their Interns to a range of accommodation options after arrival. In Chiang Mai we will refer Interns to a number of sources to find suitable accommodation. Comfortable 1-bedroom apartments cost between 3,000 and 6,000 Thai Baht (THB) per month. This will usually include air-conditioning, a double bed and a separate bathroom. Thai apartments rarely have kitchen areas as most Thais eat out as eating food at restaurants or takeaway from markets is very inexpensive.