Follow our step-by-step guide to finding work in Thailand and you will be offered teaching work within two months of finishing training. Most SEE graduates find work within two weeks. Please note that this guarantee applies to native speakers with degrees. Non-native speakers with degrees are also likely to find work quickly but there are some schools which only employ native speakers. Native speakers without degrees can find work but they need to be flexible about location and types of school. A degree is normally needed to obtain a non-immigrant B (Business) visa and work permit. Non-native speakers without degrees are unlikely to find work.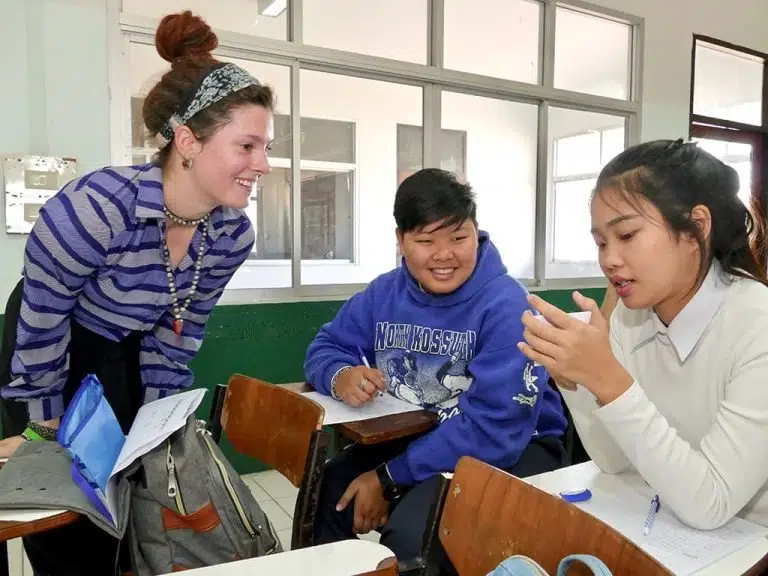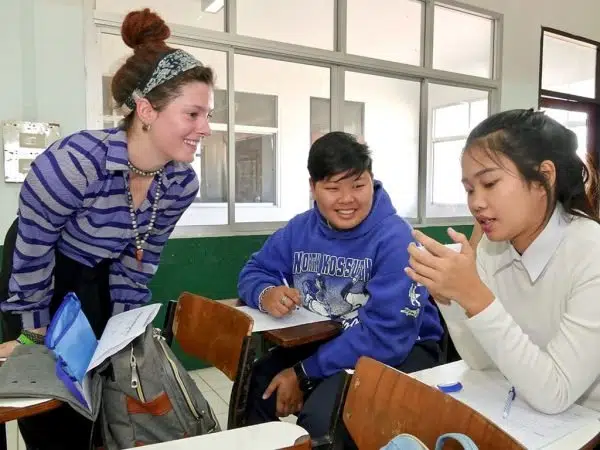 Types of TEFL teaching jobs in Thailand
There are four types of paid TEFL teaching work:
Teaching full-time at a formal government, or private Thai school, college or university. Teaching hours are normally 7:30am – 4:00pm Monday to Friday. This work is salaried, includes paid holiday and contracts normally run for 10 – 12 months or until the end of the academic semester or year.
Teaching part-time at a language school. Teaching hours are normally weekday evenings and at weekends. This work is hourly paid. This type of work allows shorter commitments and more flexible working schedules.
Freelance teaching. Teaching hours are arranged between the teacher and student.
Teaching via the Internet
Appearance and Behavior in the Hiring Process
Thais place great value in appearance and behavior. Teachers are expected to dress smartly and be well-groomed. Teachers should also understand and respect the hierarchy within their school. Thais expect teachers to be polite and respectful to their seniors, all religions and the monarchy. SEE's cultural awareness training addresses these points in far more detail.
Finding TEFL teaching jobs in Thailand
Step 1:
Pre-arrival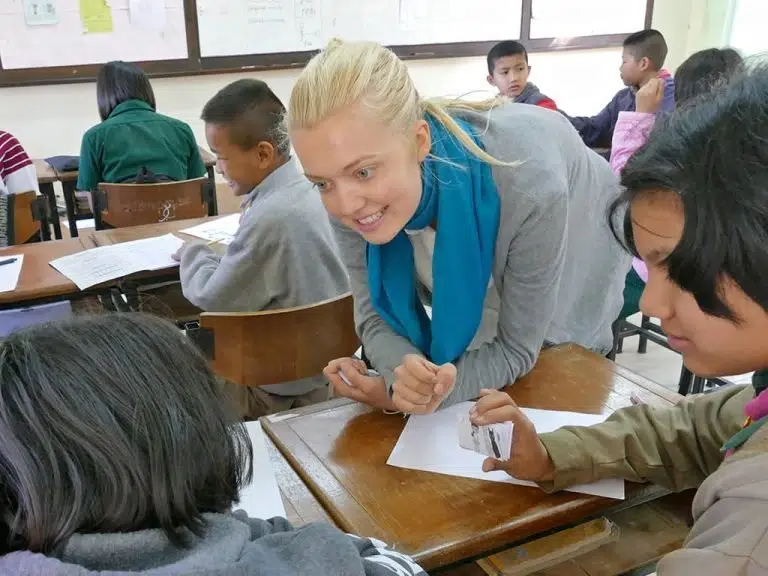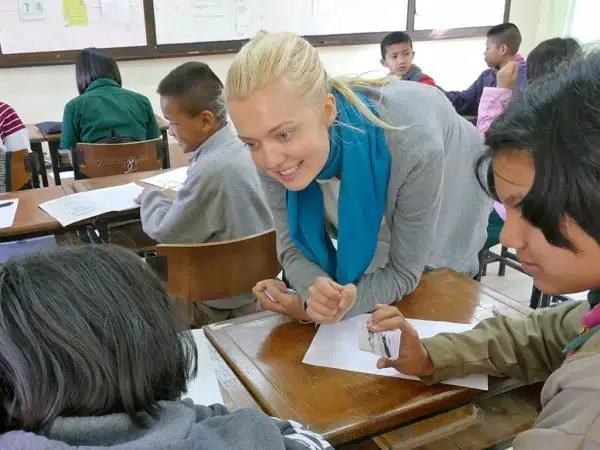 Pack light-weight formal interview and teaching clothes. Alternatively, it is cheap and easy to buy these clothes from one of the large international supermarkets and department stores that are located in every major town and city in Thailand. Larger sizes are sometimes harder to find, such as over size 11 US / 9 UK / 42 Eur in mens' shoes.
Bring originals of all relevant qualifications (degrees, certificates). Some employers may also request to view university transcripts if applicable and/or references. It is best to get all of these ahead of time, as it may be difficult to do from abroad. It's also advisable to bring a police check/clearance from your home country. We can advise on which one is most appropriate for you. If you don't bring one with you, don't worry as it's possible to obtain one from the Thai police in Chiang Mai or Bangkok.
Also, if considering staying abroad for a year or more, extend your current (state/province/country) driver's license as long as possible, as this can be used to get a Thai driver's license (without having to take a driver's test). Whatever class of license you have in your home country is what you are eligible for (without a test) in Thailand (e.g., car, motorcycle). Taking a motorcycle safety course in your home country is a great idea, as these types of classes do not exist in Thailand. Also, strongly consider applying for an International Driving Permit (IDP), which will be honored in most countries for up to a year. Most countries have a fairly straightforward process and small fee.
Note that depending upon location, there are good to limited public transportation options in Chiang Mai, as well as other Thai cities, towns, and the countryside, and the use of motorbikes (as well as bicycles and private cars) will make it easier to find work. Being flexible on school location (and the small commute it might entail) can make a big difference. Alternatively, some EFL teachers move close to their school/work location after finding employment.
Step 2:
Prepare a resume/CV
Include all relevant personal information including visa status.
Attach a small passport-sized color photo to the top of the resume/CV. This helps potential employers remember applicants more easily. Dress formally for the photo but look relaxed and friendly. There are numerous photographic shops in every city offering a dozen photos for just a few dollars.
The schools we visit for teaching practices can be added to resumes/CVs as relevant experience. This is very important as it shows real Thailand teaching experience.
How to write a CV/Resume for the EFL teaching world is covered during training.
Step 3:
Purchase a Mobile Phone and/or local SIM card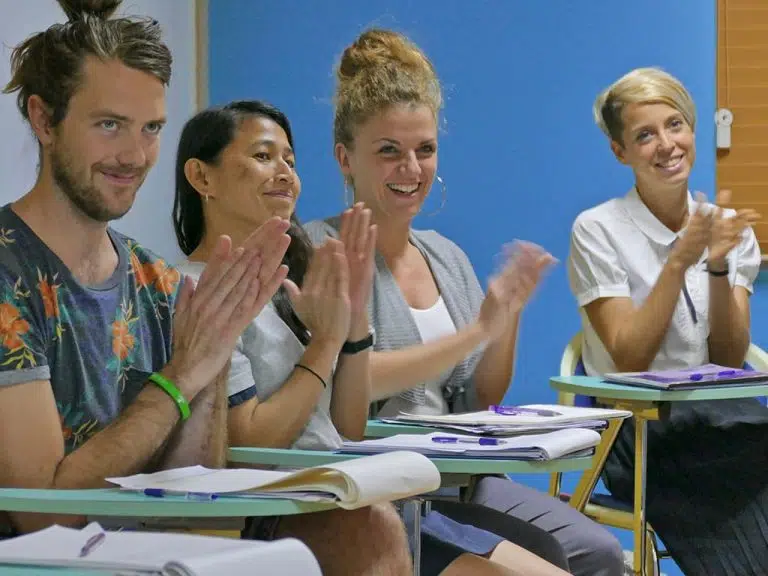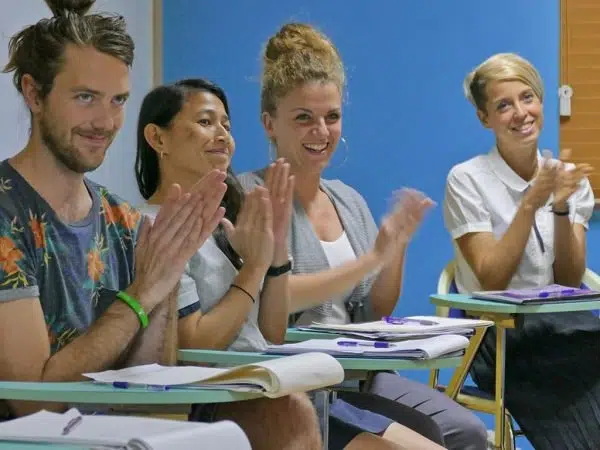 It is essential to leave a contact phone number when contacting potential employers. Mobile phones are cheap to purchase and easy to use. SIM cards can be bought from mobile phone shops. Credits (top-up cards) can be bought from any branch of 7-11. There are both post-paid and pre-paid plans (the 7-11 are pre-paid sims and top-up cards). The three primary cell phone providers are AIS, DTAC, and TRUE. All have some amount of 3G/4G coverage throughout most of the country, though there are very rural/mountainous areas with limited/no coverage. Foreigners are required to provide their passport in order to purchase a SIM. Note that most Thais do not have, or use, voicemail. It is important to answer calls when they are made, and call back later when your phone calls go unanswered.
Step 4:
View job listings on the following sites each day
Many schools do not advertise their teaching positions as they rely on local connections and walk-ins. However, these websites list the jobs that are advertised.
Step 5:
Post your resume/CV on all these sites
School recruiters regularly scan these listings.
Step 6:
Forward your resume/CV to these large chains of language schools
Step 7:
Forward your resume/CV to these teacher employment agencies
Step 8:
Teach Online from your home
If interested in teaching online (over the Internet with a laptop/desktop or even a smartphone, either full- or part-time), consider the following online teaching organizations.
Step 9:
Personally visit schools in Chiang Mai
On the last day of SEE TEFL training, exhaustive lists of contact information for Chiang Mai schools will be distributed and discussed. The lists include 24 private schools, 25 government schools, 5 universities, 6 vocational colleges, 7 international schools and 24 language schools. Those seeking work in Chiang Mai will want to personally visit these schools
Step 10:
Hand a copy of your resume/CV to SEE TEFL staff
Our sister school, EFL Learning Centre, manages around 70 foreign (native and non-native) teaching jobs in full-time and part-time positions in schools, kindergartens and colleges in Chiang Mai and across Thailand. SEE graduates are always first choice. The standard salary for these jobs is 28,000 – 40,000 THB per month.
Employment in other Asian countries
There are many job opportunities especially in Vietnam, Korea, China and Japan (large populations with a focus on education). There is also work to be found in neighboring Cambodia, Laos, and Myanmar. For employment beyond Thailand, see the following resources.
Note: there is a private Facebook group called SEE TEFL Grads that all graduates are invited to upon graduation. Teaching jobs are posted there regularly.