Become a Certified TEFL Teacher in Thailand with SEE TEFL in Chiang Mai
When you're looking for the highest quality TEFL course Thailand offers, there is no better place than SEE TEFL Chiang Mai. Becoming a certified TEFL teacher in the Kingdom of Thailand is a fantastic way to build a new skill set that can be taken with you to anywhere in the world. TEFL teaching in Thailand is a gratifying and respected profession within Thai society and has many valuable benefits. By graduating from one of our TEFL courses in Chiang Mai, you will gain a worldwide recognised certification which opens up many exciting opportunities for your future.
Why choose SEE TEFL for your teacher training?
Complete a TEFL Course in Thailand with SEE TEFL and Start Teaching
When you first start considering TEFL in Thailand, you should consider what type of TEFL course you would like to attend. A TEFL course in Thailand is a great way to learn new skills and build a career, and our courses at SEE TEFL are the best onsite TEFL courses Thailand has to offer. Since opening our doors for the first time back in 2006, we have developed the best TEFL course in Thailand. In addition, our 4-week, 120-hour Teacher Training Course comes with a job guarantee.
The SEE TEFL Course in Chiang Mai is Considered the Best TEFL Course in Thailand
Our onsite TEFL courses in Chiang Mai have been running since 2006, and we have had over 2000+ successful graduates from over 40 countries on six continents with an age range between 18 and 70 years old. We pride ourselves on providing our student teachers with the best onsite TEFL training in Chiang Mai. Our experienced trainers maintain Thailand's highest quality TEFL certification at SEE TEFL Chiang Mai. And we've been offering precisely that for close to two decades.
NEXT START DATE: January 8th, 2024
Onsite in Chiang Mai is our standard
4 Week Teacher Training Course.
NEXT START DATE: April 16th, 2024
4-5 months Paid TEFL Internship
including four weeks of onsite teacher
training in Chiang Mai!
The course fee starts at $2,450
Download
your free guide here
Everything you need to know about becoming a TEFL teacher in Thailand – even without prior teaching experience.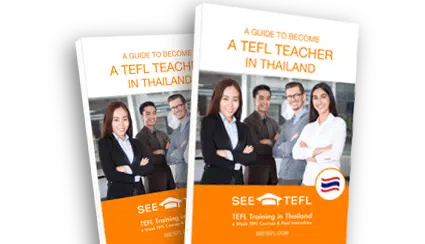 TEFL Course Thailand FAQs
How do I become TEFL certified in Thailand?
Since we opened our school in 2006, SEE TEFL Chiang Mai, Thailand has seen considerable growth in demand for qualified and certified TEFL teachers. Becoming a participant and securing the premium TEFL certification Thailand offers is a process made easy at SEE TEFL Chiang Mai. Whether you are looking at taking part in our 120-hour 4-week TEFL training, a Paid Internship, or gaining a TQUK Level 5 Certificate, we can assist you with everything from your visa to your accommodation and job placement. We can help you with this once you have decided which SEE TEFL course suits you best. It's as simple as choosing which date you'd like to start and booking your place on the number one training course for TEFL in Thailand.
Why choose a TEFL course in Chiang Mai?
Once you have decided to take your onsite TEFL course in Thailand, it's essential that you then choose the best TEFL course in Thailand. Chiang Mai is a beautiful vibrant city set in the country's north. As a result, there is great demand for qualified TEFL teachers looking at teaching from kindergarten to university levels and at language schools. Chiang Mai offers a fantastic lifestyle, whether you are looking for the excitement of the city itself or the tranquillity of the surrounding countryside and mountains. As well as having the best onsite TEFL courses in Thailand, you will also find a rich array of languages being spoken, plus a wide variety of cuisines and cultures being celebrated.
Can I teach anywhere in the world with a SEE TEFL certificate?
Yes! After graduating from a TEFL course in Thailand, you'll be able to teach in over 100 countries worldwide. Our graduates have found TEFL teaching in Thailand a wonderful experience, and many stay in the kingdom. Still, we have graduates who get their TEFL certification in Chiang Mai and then go abroad to teach in a wide range of countries. Completing one of our TEFL courses in Chiang Mai will provide you with all the necessary skills to move into a new teaching career in the kingdom of Thailand or anywhere else in the world.
Are English teachers in demand in Thailand?
The demand for accredited TEFL-qualified teachers here in Thailand is high. Both schools and parents are happy to pay for foreign teachers in the classroom. Once you graduate and gain TEFL certification, Thailand has fantastic opportunities to work in big cities such as Bangkok, Chiang Mai or Phuket, or teach in the country's more rural areas. After completing one of our TEFL courses in Chiang Mai at SEE TEFL, Thailand will provide many exciting opportunities to teach all ages and levels.
How much is a TEFL course in Thailand?
If you're looking to study at a TEFL course in Thailand, prices can vary depending on the content of the course, its quality, its accreditation and whether it's a licensed school, or not. SEE TEFL scores positively with all of these factors. TEFL courses can be taken both online and onsite in Thailand, but the best TEFL courses offer onsite classroom skills and language awareness training along with 6 observed teaching practices in real Thai schools, plus cultural awareness training, Thai language instruction and job support. SEE TEFL includes all of this in their program. We can also help arrange accommodation in the city during your stay in Chiang Mai. At SEE TEFL Chiang Mai, our 120-hour 4-week Teacher Training Course costs a very reasonable $1395.
How do I teach English in Chiang Mai?
If you're looking at starting a new career in education, taking a TEFL course in Thailand is excellent idea. Choosing TEFL teaching in Thailand is a hugely rewarding career and taking one of our TEFL courses in Chiang Mai is a step in the right direction to beginning your journey. We have a 95% graduation rate at SEE TEFL, and our graduates have gone on to work in Chiang Mai, all over Thailand and many other parts of the world. Both native and non-native speakers can take TEFL courses, and once they gain their TEFL certification, they'll discover schools in Chiang Mai and across Thailand have a high demand for TEFL accredited English teachers.