Fees and Dates for SEE TEFL Courses
SEE TEFL offers two programs:
An onsite face-to-face Chiang Mai 4 Week TEFL Certification teacher training course at a licensed school. The program fee is USD$1,395. Seats are limited, so it's recommended to book early. Dates displayed on our Registration Page currently have availability.
A 4-5 month Paid TEFL Internship that includes four weeks of onsite teacher training and TEFL certification in Chiang Mai with hotel accommodation before a guaranteed job placement with a minimum salary of 35,000 THB/month for 1 semester (4-5 months). The program fee is USD$2,650 for Chiang Mai placements and USD$2,450 for placements outside of Chiang Mai. Register Here
Program Schedule for 2023
Program Schedule for 2024
Courses run from Monday to Friday for 4 weeks unless stated otherwise
Visit our Register/Pay page to confirm a place on any SEE TEFL program.
Inclusive 4 Week TEFL Program Fee
The 4 Week TEFL Course Fee includes all course costs including study materials, reference books, testing and certification.
Optional Accommodation for Chiang Mai 4 Week TEFL
SEE TEFL can book an optional 30-night accommodation for USD$350 single / USD$ 400 double occupancy. This is completely optional and most attendees find their own accommodation from among the many available in Chiang Mai. See our Accommodation page for more information. Payment of the optional accommodation fee is made at the same time as the deposit.
TEFL Internship Dates and Fees
The standard fee (starting September 2023) for the complete TEFL Internship program is USD$2,650 including a Chiang Mai placement and USD$2,450 including an outside Chiang Mai placement. Payment is made in two parts:
USD$900 deposit payment, which reserves a place on the program
USD$1,750 balance payment, for Chiang Mai placements which is due one week before onsite training starts
USD$1,550 balance payment, for outside Chiang Mai placements which is due one week before onsite training starts
Internship Dates:
Onsite Training: 25th September - 20th October, 2023 followed by a paid teaching internship for 4-5 months
Onsite Training: 16th April - 10th May, 2024 followed by a paid teaching internship for 4-5 months
Course fees include all course instruction and materials. There are no extra charges for visa assistance, grammar instruction, course handouts, or any other course materials. Payment includes 30 nights hotel accommodation during the training period in Chiang Mai.
Payment Options for Deposits
A deposit payment is required to confirm a participant's place.
Contact us for more information regarding payment options other than PayPal and iPay.
Balance Payment Options
Balance payments are not due until the end of the first day of training. The balance payment can be paid via Paypal, and by credit card or cash at the SEE TEFL school.
Cancellations and Refunds
Please see the complete Terms and Conditions
Training groups are limited to 20 trainees.
NEXT START DATE: September 25th, 2023
Onsite in Chiang Mai is our standard
4 Week Teacher Training Course.
Download
your free guide here
Everything you need to know about becoming a TEFL teacher in Thailand – even without prior teaching experience.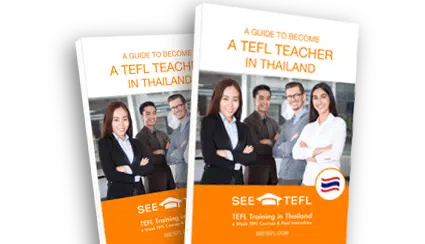 NEXT START DATE: September 25th, 2023
4-5 months Paid TEFL Internship
including four weeks of onsite teacher
training in Chiang Mai!
The course fee starts at $2,450