My Path to Chiang Mai – John Quinn
I want to confide to you my reasons for falling head-over-heels for an old, hot, occasionally wet, sometimes dusty but never boring lover: Chiang Mai.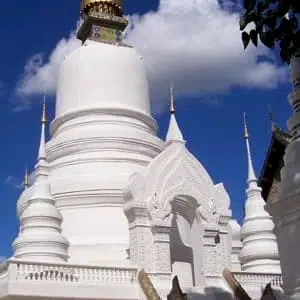 Way back in 1990 I backpacked from Australia back home to the UK. Travelling through the Nusa Tenggara islands of Indonesia I met lots of travelers heading in the opposite direction who told me tales of wonderful and amazing Thailand. Through Singapore and Malaysia the stories continued until the day I finally arrived at the Thai border. I looked across and not only anticipated but also imagined the great experiences I was about to meet, so what a disappointment when I finally arrived. People seemed unfriendly and greedy in the south; Koh Samui was the same; Bangkok made me consider going home.
I decided to give Thailand one last shot and go trekking from a northern city called Chiangmai, or was it Chieng Mai. I wasn't really interested in the name though, as I was going there for mountain walks with hill-tribe people. However (this is a very big however), I was absolutely charmed by the people, sights, smells, food and culture of this place I now know is called Chiang Mai. It was love at first sight.
Reluctantly leaving Thailand I moved on to Hong Kong and Macau. From Macau I took the night boat to China, well Guangzhou to be exact. From there I traveled by train to Beijing to catch the Trans-Siberian express to Moscow and then on to Berlin and finally home. It was an amazing adventure that changed the way I looked at life. Years passed in provincial-town England and despite a well-paid job, nice house just outside London and a beautiful(ish) girlfriend, there was something missing.
As the 90s progressed I more and more understood that the only time I had truly felt alive was when I was shoe-stringing my way through Asia in 1990. However, I was now trapped. I felt I couldn't just walk away from a pretty good job. In addition, there was my mortgage and also the woman I planned to marry to consider. Eventually one day while driving home after another 12-hour day, the internal pressure to change something exploded. The girlfriend was ditched. A flight was booked. My house was leased to a nice young couple. A Lonely Planet book for India was purchased. A year was then spent doing and seeing things in India that made Harrison Ford's adventures in The Raiders of the Lost Ark seem mundane. As the year drew to a close and thoughts of the flight home grew stronger, I started to panic. I knew a life of mortgaged marital bliss in the suburbs wasn't, and would never be, me anymore.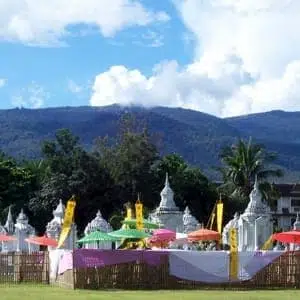 Like a corny plot twist in a Hollywood movie, life dealt me a couple of aces while traveling on a rickety old bus in Sri Lanka. I had sat next to two English teachers who worked in Bangkok, and their tales of teaching in the Big Mango enthralled me. I left the bus knowing that this was the path I was going to take. Anyway, cutting a long story short that included a TEFL course, an English exotic dancer, Benidorm, a few tears and a temporary job in a dry-cleaning 'factory', I was on my way to Thailand a couple of months later with a well-deserved 120-hour TEFL certificate. I planned to head to my favorite city in Asia from my 1990 adventure. I landed at Don Muang airport at 1:47pm on October 21st 1999 and was on the Khao San road night bus to Chiang Mai a day later. Since then there has not been a single regret regarding my decision to make this break and relocate my life to Asia.
My first year in the north was spent intentionally avoiding too much work. After a year in India I was going to party, and work would just get in the way. However, I had enough teaching hours from a language school job to cover living costs and finance a Honda-dream lifestyle. Through a friend, I got my foot in the door at the British Council teaching centre. A 2-year full-time contract and fixed salary followed and financed a nicer apartment and a growing bank balance. The bank balance was blown when I took a 6-month holiday at the end of my contract. I managed to travel around Thailand and visit Laos, Cambodia and Burma while still keeping an apartment in Chiang Mai. It was worth the expense. I then became a Director of Studies at another school before starting my own school around 6 years ago. I am still a school owner, but my day job since 2006 has been TEFL trainer.
This article was first published 11 December 2010 on ajarn.com