Desiring to facilitate English in Thailand and have no degree? Worry not for it is possible. There is plenty of opportunity and money to be made from teaching English in Thailand without a degree. Lack of a degree may not hinder you from teaching and having an onsite TEFL certification is a definite plus.
When searching for an English teaching position in Thailand, you will find that most schools ask for a bachelor's degree and an onsite TEFL certificate. It is up to you, however, to prove during the interview process that lacking a degree does not hinder your teaching ability. Below we have come up with a few pointers to guide you as you embark on your teaching journey in this beautiful country.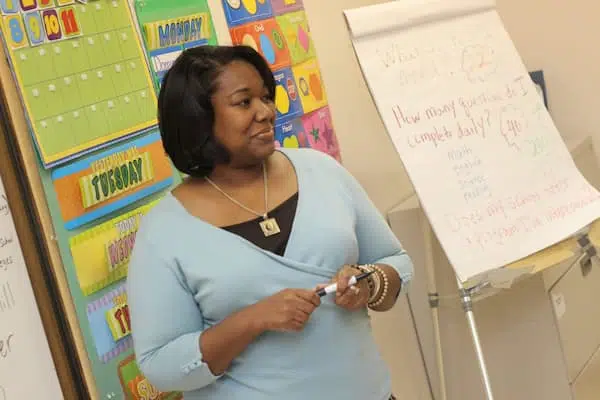 1. Finding a Teaching Job
The government does not allow formal schools to sponsor foreigners who do not have a degree. However, there are legal loopholes to work around this. Some formal schools will classify the teacher as a classroom assistant. In addition, agencies are often non-formal schools, so they can provide non-immigrant B visas and work permits for teachers without degrees; they then subcontract their teachers to formal schools.
The demand for foreign English teachers in Thailand is high. In big cities like Bangkok, Chiang Mai and Phuket, parents are willing to pay to get their children into classrooms led by foreign English teachers. Lack of a degree means you will have to do a little legwork on your own, but the schools will hire you if you meet their qualifications and are in the right place at the right time, as many schools are in constant need to meet that demand from parents.
2. Teaching License
After you sort out your work permit, you will need to apply for a teaching license. For those who hold a B.Ed. or a degree (any subject) plus a Postgraduate Certificate/Diploma in Education, they receive a permanent teacher license; for those who hold a degree (any subject), they can receive up to 3 2-year waivers from the permanent teacher license requirements.
A temporary one is valid for up to six years so you will have enough time to learn the ropes before you have to renew it again.
The documents that you will need to apply for a temporary license include your passport with a non-immigrant Business (B) or marriage-to-a-Thai (O) attached to it, a Thai work permit, transcripts of your academic qualifications, passport photos, and a certified criminal background check.
When the Teacher Council of Thailand finds that everything is in order, you will receive your temporary teaching permit and be ready to go.
3. Types of Teaching Jobs
Urge to instruct English in Thailand is only the first step. Different institutions require different qualifications from foreigners. On your part, you should research the type of school you want to teach in so that you can prepare your curriculum vitae to meet their expectations.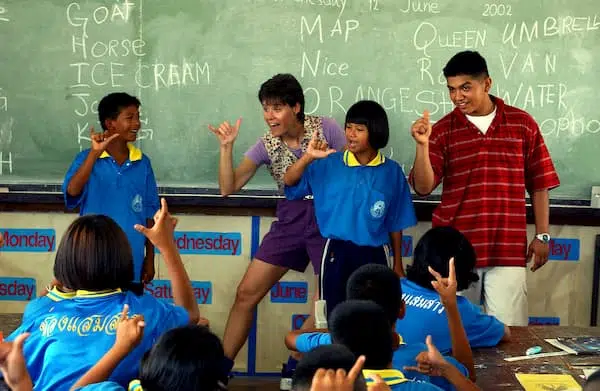 Public School: When you apply to teach in a (formal) public school, the Thai Ministry of Education will train you on how to conduct yourself and how to interact with the students and their style of teaching. The working hours for public schools are relatively high, and you may find yourself teaching around 20 periods over a 40-hour working week.
Universities: Universities have less working hours, 12 being the most you can expect to work in a week.
Private Language Academies: There are also private language academies where the class size and teaching schedule are more sporadic with flexible working hours. You can work during morning hours, afternoon, or evenings depending on your students' schedules. The working hours are also friendly, and you will find yourself working 20 hours a week at most.
Private tutoring: Private tutoring is also another way you can be teaching English in Thailand without a degree. If you have experience in teaching, you can make it your full-time gig where you set your schedule and working hours.
Internet Teaching: Aside from working as a private tutor where you have to schedule hours to meet your students in person, Internet teaching is another option to consider. Either as a full-time job or a part-time job, you can teach English to students over the Internet with your own laptop. This is also a good choice for non-native speaking teachers as non-native speaking teachers have the option to teach English plus their native language.
4. TEFL Certificate
Some institutions may overlook the fact that you do not have a degree and let you teach English in their schools. However, if you lack both a degree and a TEFL certificate, it is going to be much more difficult to find a teaching opportunity. According to the Thai Ministry of Education rules for foreign teachers in Thailand, you don't technically need a TEFL certificate to teach in Thailand. It won't be contravening the law to teach without one. However, to be offered work, you should have at least an onsite TEFL or CELTA certificate.
Ensure that you have a TEFL certificate while seeking employment increases your chance of getting hired. You will also get paid more if you possess both a degree and a TEFL certificate.
5. Health Insurance and Housing
When you get your teaching job, you will enjoy subsidised healthcare from the government. Some schools also offer free housing depending on your arrangement with them. Teaching English in Thailand provides a comfortable salary, so you will be in a position to afford these and more amenities if your employer does not provide them. Housing is inexpensive in Thailand, and even when your employer does not offer a house, they will assist you in looking for suitable accommodation
6. Native English Speaker
When you want to be teaching English in Thailand without a degree, it is vital that you understand that the government recognises teachers who are native English speakers. Ireland, Australia, U.S.A, Canada, New Zealand, and the United Kingdom are the countries the government acknowledges as native speakers of the English language. When you hold a passport from one of these countries, and you pass the requirements set, you can legally teach English in the country.
If you are a non-native English speaker wanting to teach in Thailand, you are also in demand if your English language proficiency level is equivalent to at least TOEIC 600 or IELTS 5.5.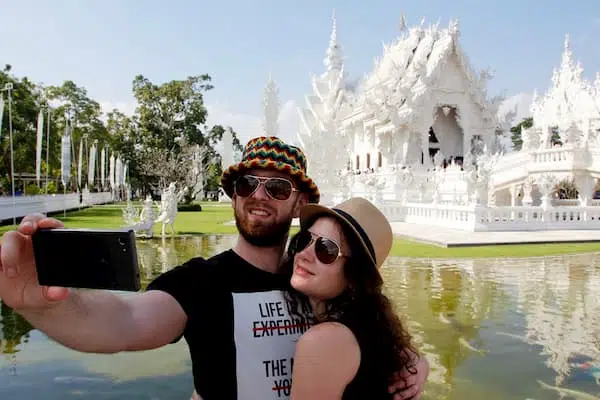 7. Salary
The average salary for a non-degree holder in Thailand is around 25,000-30,000 baht/$750-$950 USD. Of course, this will fluctuate based on various factors, but that's the average. If not living in Bangkok, this amount leaves you with enough income to live comfortably and travel the country. A suggestion would be to choose a province like Chiang Mai where the cost of living is relatively low, and it has many TEFL courses available as your option.
Key Takeways
Please note that a bachelor's degree isn't a training requirement for the 4 Week TEFL course; however, a bachelor's degree (any major) is normally needed to obtain a non-immigrant B (Business) visa and work permit.
A non-immigrant B visa and work permit is normally required to work legally as a teacher in Thailand. However, although difficult, it is possible to get teaching jobs in Thailand for foreigners. The Ministry of Education may overlook your lack of a degree, but there are steps you need to take for this to occur.
The school that you are working for should write to the ministry informing them that they do not have enough finances to employ a degree holder and they want you to work for them instead.
Also, if you have attended and completed numerous seminars, teaching conferences, a TEFL training course and other relevant courses, these can be used to your advantage while applying for a teaching job. On such instances the institution you are working for needs to speak on your behalf to the ministry to get your teachers' license
Conclusion
As you can see teaching English in Thailand without a degree is possible, but you have to overcome more hurdles than a person who holds one. It is important to note that teaching in the country without proper documentation is illegal and can lead to your arrest, imprisonment and subsequent deportation so ensure all your documentation is valid to avoid any collision with the Thai authorities.