Do you have an interest in teaching English as a foreign language? English is one of the most widely spoken languages globally. As an English teacher, you can actually make a positive difference and connect with people through teaching. This article explores the meaning of ESL, and how you can become an ESL teacher.
What Does ESL Mean?
What does ESL stand for? ESL stands for English as a Second Language. TEFL is another related term, and this means Teaching English as a Foreign Language. Right now, this is the fastest growing area in the public schools around the United States. This population continues to grow and there will be an ever increasing need for teachers that are ESL certified.
Who is an ESL Student?
To qualify as an ESL student, there are several criteria that need to be met. According to the Department of Education, ESL students are those that are in either elementary or secondary school. They must also be students that were born somewhere else besides the United States, United Kingdom and Canada . On top of that, their native language needs to be something besides English. Another criteria is that their level of English proficiency may be to a point where they are not able to have success in English speaking classrooms, or state testing without some additional support.
Right now, ESL students make up about 10 percent of the public school population in the US alone. It is estimated that by 2025, they will be 25 percent of the public school population. These students are not just limited to large urban areas, but are instead found in public schools throughout the country. Since only about 1 percent of public school teachers are ESL certified, it is obvious to see that there is a real demand for ESL instructors.
What Is An ESL Teacher?
An ESL teacher is certified to work with those students who were born in another country and who do not have English as their primary language. They also work with those that do not have the proficiency in English to have success in the classroom where English is spoken. Their job is to instruct those students and provide support so they can improve their English and become proficient enough to reach fluency. They work on both the written word and the spoken word, so this encompasses reading, writing, speaking and listening.
The job of the ESL teacher is to create materials and lessons for their students that include both written and verbal instruction in English. They follow the progress of the students and individualize their educational plans to meet the student needs. There is not a specific method of instruction, however the individual districts are required to provide appropriate instruction that helps students progress.
How To Become An ESL Teacher
Each state in the US has their own ESL teacher requirements. Those seeking this type of licensure must follow the guidelines and meet the requirements outlined in their individual educational state boards. Many states actually offer an ESL endorsement as the primary endorsement. The common method however, is for ESL to be an additional endorsement.
For those seeking this, they may be able to receive it through either an undergraduate or masters program at a university, or through a teacher's certification program. Because each state is different, becoming an ESL teacher will require some level of investigation by the applicant.
How To Become ESL Certified
There are several methods of getting certified as an ESL teacher. One of them is going directly to this as an endorsement when receiving a teacher degree at a university. Degrees in ESL can be either as an undergraduate or a graduate degree. Someone is also able to take an approved teacher certification program and receive their endorsement instruction through this method.
To ensure you can succeed as an ESL teacher, there are a few teaching certifications that you might want to add to your resume.
There are TEFL, TESL, or TESOL.
TEFL stands for Teaching English as a Foreign Language

TESL stands for Teaching English as a Second Language

TESOL stands for Teaching English to Speakers of Other Languages
So, which certification are you going to need? It depends. Let's look at the easy and helpful guide below.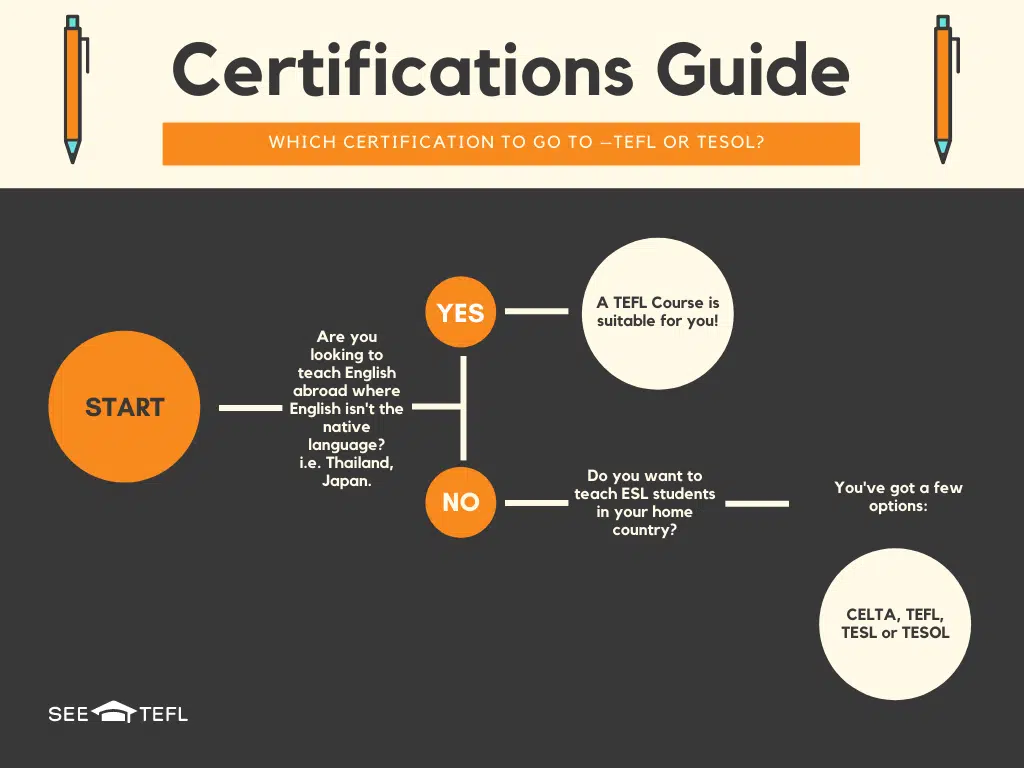 Once the coursework is completed, that does not automatically mean that someone is certified. They must take tests to show their understanding of the material. They will be tested on knowledge of the content as well as their knowledge of appropriate teaching methods.
There may also be a review of the teaching experience a candidate has. After this is all taken into account, then an actual certification in the area of ESL may be granted. This might be a small sacrifice for those looking for a teacher career since the ESL area of teaching looks to be a very good place to go if job security is a concern.
The Bottom Line
We hope that this article answers your questions about ESL teachers. If you wish to take a TEFL course, send your application, and start doing what you love. Many institutions are offering highly rewarding jobs, and you shouldn't miss out.