NEXT START DATE: February 7th, 2022
Onsite in Chiang Mai is our standard
4 Week Teacher Training Course. Big
discounts for booking early.
Step confidently into the classroom and
Teach English as a Foreign Language anywhere in the world.
SEE vouches for Guaranteed Success!
Join SEE's internationally
recognized TEFL certification teacher
training at our Chiang Mai school.
•
4 weeks of onsite classroom skills training
in Chiang Mai.
•
Monday to Friday 9AM – 4PM.
•
Includes 6 observed teaching practices with real students at a range of local
schools.
•
COURSE FEES AND DATES
•
Training groups are limited to 20 trainees.
•
Accommodation arrangements
can be made on behalf of the trainee.
•
See also the Volunteer option for those
who wish to Volunteer Teach in Thailand.
•
Full 4-Week TEFL Description
•
This training will prepare the participant
for English language classrooms with TEFL
certification, practical skills training, language awareness training, cultural awareness training, Thai language instruction and a Job Guarantee.
Training takes place in a working language
school in Chiang Mai:
EFL Learning Centre
Download
your free guide here
Everything you need to know about becoming a TEFL teacher in Thailand – even without prior teaching experience.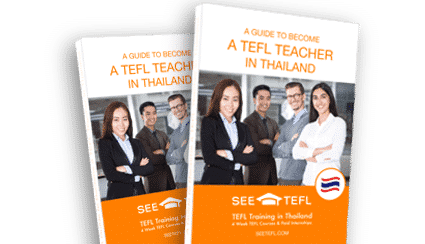 NEXT START DATE: April 18th, 2022
4-5 months Paid TEFL Internship
including two weeks of onsite teacher
training in Chiang Mai!
Guaranteed Job Placement for 1 semester!
SEE TEFL offers a 4-5 month placement for
Paid full-time English Teaching in
Central and Northern Thailand, including
two weeks of TEFL training at our school
in Chiang Mai + accommodation while
training.
SEE TEFL gets you more!
Guaranteed minimum
salary of 30,000 THB per month.
However, the average salary for SEE TEFL
Interns is 35,000 THB per month!
At the end of the placement period
participants receive TEFL certification
GET THEM WHILE THEY'RE HOT!
The teacher training + Paid Internships are
offered twice per year, at the beginning of
each Thai school semester
There's no need for previous teaching experience or knowledge of Thai language.